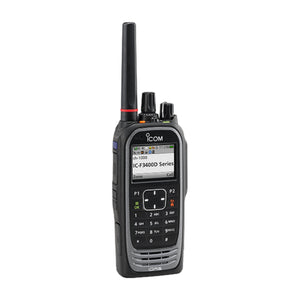 Icom F3400DT | F4400DT
The Icom F3400DT and F4400DT are portable two-way radios with a full keypads and displays.  The F3400DT is a VHF version that works from 136 to 174MHz, while the F4400DT comes in two UHF variations: 400-470 or 450-512MHz. 

Supplied Accessories

Battery pack, BP-283
Belt clip, MB-133
Cloning Software
Antenna & charger purchased separately
*3 year warranty on the radio (1 year on the accessories).