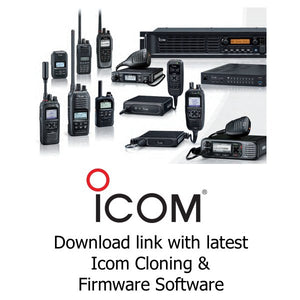 Icom Cloning & Firmware - Link
Please input your model radio in the customer notes.
Icom cloning Software and Firmware Upgrade Tool (latest version released) for one Icom Portable, Mobile or Repeater. Within 12 hours of purchase an Atlantic Radio Communications Corp. Google Drive Link will be emailed. 
*Cloning software and firmware upgrade download links are available for 12 months after purchase (when released by Icom).

*If there is a model radio that is not listed, please contact us with a model number. Also, you can specify your model in the buyer's notes.
For compatibility concerns please use the link below for support.