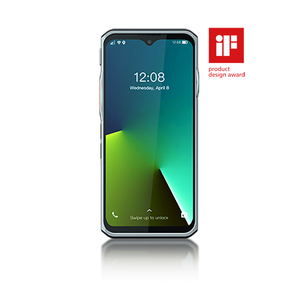 Hytera PNC560 5G XSecure Rugged Device
The PNC560 gives you the best of two worlds - a professional Push-to-Talk over Cellular (PoC) radio and a hardened productivity smartphone designed for nationwide business operations and remote workforce communications. It offers you mission-critical push-to-talk (MCPTT) over 5G/LTE network with super-fast speed and low latency, supporting team communication and collaboration with a simple key press. The PNC560 is an ultra-secure device designed for professionals who need utmost data security protection. It employs a multi-layer security mechanism integrated in both hardware and software design to provide comprehensive and adequate data protection on the device.
Powerful Handheld Smart Device and Push-to-Talk Radio
Built-In Infrared Barcode Scanner
Industry-leading Voice Quality with Digital Noise Suppression
Supports Instant Group Voice and Video Calling and Texting
Rugged and Purpose Built for Professional Communications
Seamless Switching between Cellular and Wi-Fi Networks
Runs Android Business Apps
HIGHLIGHTS:
3GPP MCX Services
The PNC560 supports dedicated 3GPP MCX service QCIs and 40ms short MSP for eMBMS service and complies with the latest 3GPP release features by the HyTalk MC platform.
Unbreakable Data Security
PNC560 employs a multi-layer security mechanism integrated in both hardware and software design to provide comprehensive & adequate data protection on the device.
Loud and Clear Audio
The dual-speaker, together with the intelligent power amplifier, enable PNC560 to deliver a loud audio. The AI-based noise cancellation, echo reduction, and wind noise cancellation help to filter the noise and recognize the voice to improve clarity.
6.3-inch FHD+ Full-screen
The PNC560 features a massive 6.3-inch full HD screen with a dewdrop notch. This screen is sunlight readable and works with gloves and wet fingers, ideal for use on construction, manufacturing, and industrial sites.
3 High-resolution Cameras
Triple cameras featuring video stabilization solution, low-light photography, and high dynamic range technology, easy to capture stable videos and sharp pictures on the move, day or night, near or far.
Barcode and QR Code Scanning
PNC560 can quickly read barcodes or QR codes to obtain the information at the daytime or nighttime. It greatly helps boost the productivity of warehouse staff, ticket officers, and more.
Open App Ecosystem
With an Android platform, the PNC560 allows you to use third-party applications that help you get your job done efficiently. Open APIs make it possible to develop your own applications for specific purposes.
Unmatched Durability
Rated with IP68, PNC560 is exceptionally resistant to water and dust. Furthermore, the PNC560 stands up to 1.5-meter drop and extreme temperatures from –20°C to +60°C.
PACKAGE INCLUDES:
Li-Ion Polymer Battery (BP4901)

SIM Card
Power Adapter (PS3006)
USB Charging Cable (PC158)
Tempered Glass Screen Protector (POA200)
*2-year manufacturer's warranty.