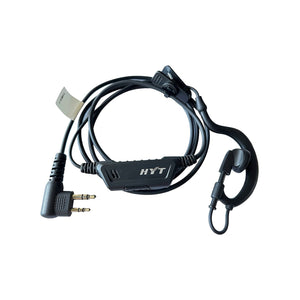 Hytera EHM04-A
The Hytera EHM04-A is a ear hook earpiece for Hytera portable two-way radios.
The EHM04-A works with these radios: TC-508, TC-610, BD502i, BD552i, BD612i, PD402i, PD412i, PD482i, PD502i and PD562i.
Specifications of EHM04-A

Weight - about 28g
Color - black
PTT Key - yes
VOX - no
Emergency Key - no
Connector - 2-pin
Microphone Sensitivity - -42±3dB@1kHz 3.0V 2.2KΩ;0dB=1V/Pa
Speaker Power - 20 mW (rated); 30 mW (max.)
Speaker Impedance - 32Ω±15%@1kHz
Speaker Frequency Response - 102±4dB@1kHz at10mW
IP Rating - no
Operating Temperature - -20~60℃
Storage Temperature - -40~85℃
*1 year warranty on this item.
ATLANTIC RADIO IS A HYTERA DIAMOND DEALER.