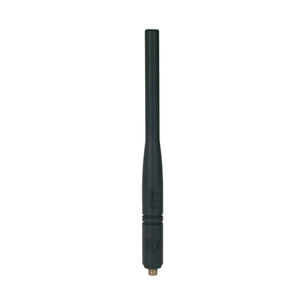 Motorola PMAD4117A 
The Motorola PMAD4117A is a VHF antenna for portable two-way radios. The PMAD4117A works in the (136-155MHz) range and is compatible with these Motorola portables:
R7, XPR3300, XPR3500, XPR7350, XPR7380, XPR7550, XPR7580, APX900, APX1000, APX3000, APX4000, DEP550E, DEP570E, DGP5050E, DGP5550E, DGP8050E, DGP8550E, DP2400E, DP2600E, DP4801E, XIRP6600I, XIRP6620I, XIRP8600I, XIRP8608I, XIRP8628I, XIRP8660I and XIRP8668I.
PMAD4117A Features:
Type: Helical (15cm)
Frequency Band: VHF
Frequency Range: 136-155 MHz
GPS: Yes
Color Code: Yellow
Intrinsic Safety Standard: UL/TIA 4950
*1 year warranty on this antenna.
Atlantic Radio is a Motorola NA Commercial Radio Reseller.