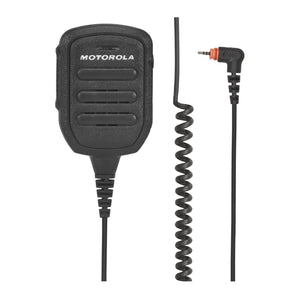 Motorola PMMN4125B
description
The Motorola PMMN4125B is a a remote speaker microphone with 2.5mm accessory port.
Non IMPRES wired RSM with 2.5mm connector and integrated battery. Kit includes USB-A to Micro USB cable for charging. Dimensions (W x L x D): 58mm x 84mm x 24mm (without clip) Weight includes RSM and cable: 154g Battery life: 22 hours min (5/5/90 duty cycle) Charge time: 2 hours typical.
compatibility
The Motorola PMMN4125B fits these Motorola Portables: 
SL300
SL500
SL1600
SL2600
SL3500
SL4010
SL7550
TLK100
warranty
*1 year manufacturer's warranty on this item.
Atlantic Radio Communications is an authorized Motorola Commercial Radio Reseller.