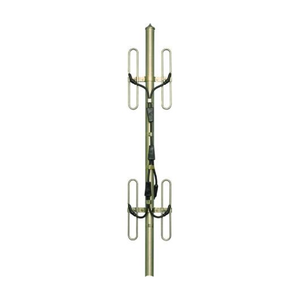 CommScope DB404-B (66392)
Omnidirectional exposed dipole antenna operates in the 450-470 MHz frequency range, UHF, 3.8 dBd gain, 250W power input, and is terminated with an N Male at the end of a flexible lead. Included with the antenna is a DB365-OS pipe mounting kit for 1.25-3.5 in OD round members. It also features broad response, ideal for duplex operations, is extremely rugged, has an extra heavy-duty construction, and is moisture and lightning resistant. 
UHF Antenna
Tuned Freq. (MHz) 450-470 MHz
Gain (dBd) 3.8 dBd
Gain (dBi) 5.9 dBi
Connector Placement Pigtail
Antenna Pattern Omnidirectional
Lightning Protection DC Ground
Horizontal Beamwidth 360 deg
Vertical Beamwidth 27 deg
Jumper included Yes
Maximum Input Power (Watts) 250 watts
Maximum VSWR 1.5:1
RF Connectors N Male
Polarization Vertical
Maximum Rated Wind Velocity (MPH) 100 MPH
Weight 14 lbs
Length 60 in
*1-year manufacturer's warranty.