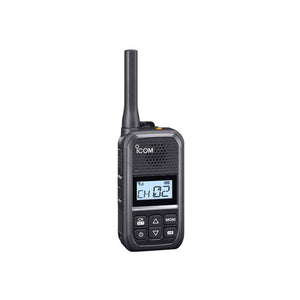 Icom F200 Rugged and Lightweight  Entry-level UHF Portable Two-way radio 
The Icom F200 portable two-way radio has a small and durable design.
Some key features are: 16 channels, 2 watts, UHF (450-470MHz), IP54 (durability rating) and (2) programmable keys. 
Recommended for education, hospitality, HOA, auto dealers, restaurants, supermarkets, medical, construction, manufacturing, security, recreation, and more.
Dimensions
H 6.1 × W 2.0 × D 1.1 inch incl. antenna
Weight
157 g , 5.5 oz
Key Features
16 Channels

2 Watts

UHF (450-470MHz)

IP54 Durability Rating

2 Programmable Keys

Lithium Ion battery

USB-C Charger

Channel announcement
VOX
CTCSS/DTCS tone squelch
F200 Kit Includes
F200 UHF Radio
MB-127 Belt Clip
BP304A Battery
BC262 Charging Cradle
BC263A USB Type-C Cable
Cloning Software
2-Year Warranty (1-year on accessories)