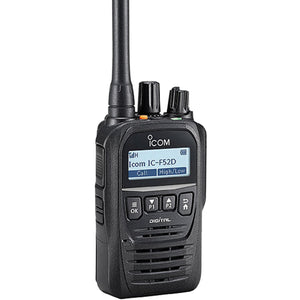 Icom F52D Two-Way Radio
*Intrinsically Safe Models are available.
The Icom F52D is a durable (IP67) and compact portable two way radio. The F52D is a VHF (136-174MHz) radio that works in both analog and digital (IDAS/NXDN) modes. 
Here are the main features of the F52D:
VHF (136-174MHz)

5 watts of power output

512 channels with 128 zones

IP67 rated against dust, shock and liquid damage and 

Lithium ion battery 

6 programmable keys

Digital (IDAS/NXDN)

Bluetooth

GPS

Intrinsically safe version available

Vibrate profile

Voice recorder
This radio kit includes the following items:
(1) F52D - Radio 
*Intrinsically safe version - F52DUL
(1) BP290 - Battery - 2010mAh li-ion battery
*Upgradable to 3150mAh - BP294  
**Intrinsically safe version battery - BP292UL - 2010mAh li-ion intrinsically safe battery
(1) MBB3 - Standard Belt Clip
(1) Warranty - 3 year on radios (1 year on accessories)
*Atlantic Radio is an Icom dealer and is authorized to sell and support their products.