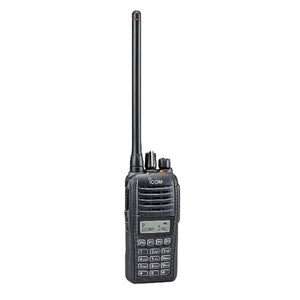 Icom F2000T Two-Way Radio
The Icom F2000T is an analog handheld portable two way radio with a display and full keypad. The F2000T comes in two UHF variations: F2000T 84 USA (400-470MHz) or F2000T 90 USA (450-512MHz). The F2000T is a powerful portable radio with 4 watts of output and 128 programmable channels. It has a compact and durable design with an IP rating of 67 (against dust, shock and liquid).
Here are the main features of this radio:
UHF (400-470MHz or 450-512MHz)

4 watts of power output

128 channels available for programming

IP67 rated against dust, shock and liquid damage and 

Lithium ion battery 

LCD Display

Full keypad
This radio kit includes the following items:
F2000T - Radio - Icom Part# F2000T 84 USA (400-470MHz) or F2000T 90 USA (450-512MHz)

BP279 - Battery - Li-ion 7.2V 1485mAh battery 

*Upgradable to 2280mAh - BP280

BC213 - Charger

BC-242 - AC Adapter

MB-133 - Belt Clip

FASC57U - Antenna - 430-470MHz standard antenna (red ring) J type connector 

*Stub antenna upgrade available.

Warranty - 2 year on radio (1 year on accessories)

Programming - Up to 16 channels
Atlantic Radio recommends the F2000T for any environment including construction, HOA, hotels, medical, education and more.
Atlantic Radio is an authorized Icom land mobile radio dealer.