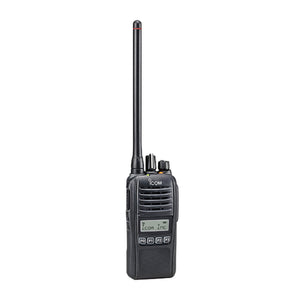 Icom F2000S Two-Way Radio
The Icom F2000s is an analog handheld portable two way radio with a display and 4 programmable keys. The F2000S comes in two UHF variations: F2000S 83 USA (400-470MHz) or F2000S 89 USA (450-512MHz). The F2000S is a powerful portable radio with 4 watts of output and 128 programmable channels. It has a compact and durable design with an IP rating of 67 (against dust, shock and liquid).
Here are the main features of this radio:
UHF (400-470MHz or 450-512MHz)

4 watts of power output

128 channels available for programming

IP67 rated against dust, shock and liquid damage and 

Lithium ion battery 

LCD Display

4 programmable keys
This radio kit includes the following items:
F2000S - Radio - Icom Part# F2000S 83 USA (400-470MHz) or F2000S 89 USA (450-512MHz)

BP279 - Battery - Li-ion 7.2V 1485mAh battery 

*Upgradable to 2280mAh - BP280

BC213 - Charger

BC-242 - AC Adapter

MB-133 - Belt Clip

FASC57U - Antenna - 430-470MHz standard antenna (red ring) J type connector 

*Stub antenna upgrade available.

Warranty - 2 year on radio (1 year on accessories)

Programming - Up to 16 channels
Atlantic Radio recommends the F2000S for any environment including construction, HOA, hotels, medical, education and more.
Atlantic Radio is an authorized Icom land mobile radio dealer.