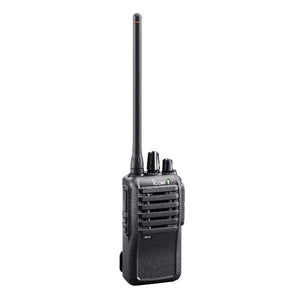 Free UPS Ground Shipping on all F3001 and F4001 orders!
The Icom F3001 and F4001 are a series of VHF and UHF analog handheld portable two way radios. The F3001 and F4001 are commercial grade handheld that are durable and easy to use.
Here are the available versions: 
F3001 51 RC USA - VHF (136-174MHz)

F4001 71 RC - UHF (400-470MHz)

F4001 81 RC - UHF (450-512MHz) 
Here are the main features of the F3001 and F4001: 
VHF (136-174MHz) or UHF (400-470 or 450-512)

5 watts (VHF) or 4 Watts (UHF)

16 channels

IP54 rated against dust, shock and liquid damage

Lithium ion battery

3 programmable keys

VOX - hands-free operation
This radio kit includes the following items:
F3001 or F4001 - Radio - Analog portable

BP265 - Battery - Lithium Ion (1900mAh) 

BC213 - Charger

BC-242 - AC Adapter (Power supply) 

MB-133 - Belt Clip

Standard antenna J type connector

Warranty - 2 year on the radio (1 year on accessories)

Programming software
Atlantic Radio is an authorized Icom land mobile radio dealer.