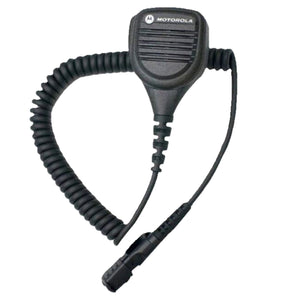 Motorola PMMN4076A
The Motorola PMMN4076A remote speaker microphone features Windporting technology, which eliminates the whining and howling sounds of wind blowing across the unit. The PMMN4076A is rated for IP54 (physical damage) and TIA4950 (intrinsically safe). A 3.5mm jack is built-in to the unit for a receive only earpiece. 
Here are the compatible radio models:
XPR3300e, XPR3500e, DEP550e, DEP570e, DP2400e, DP2600e, DP3441e and DP3661e.
 *1 year warranty
Atlantic Radio is a Motorola NA Commercial Radio Reseller.